In the past, Slovak dishes in the Žilina Region were based mainly on basic ingredients such as potatoes, cabbage, flour, milk and legumes. Sheep-breeding significantly enriched the family menu with dairy products such as cheese and bryndza. Traditional specialties and unique recipes that are unknown to different world cuisines have been created using a combination of these ingredients. So, which traditional culinary delicacies of the Žilina Region should you definitely try during your stay?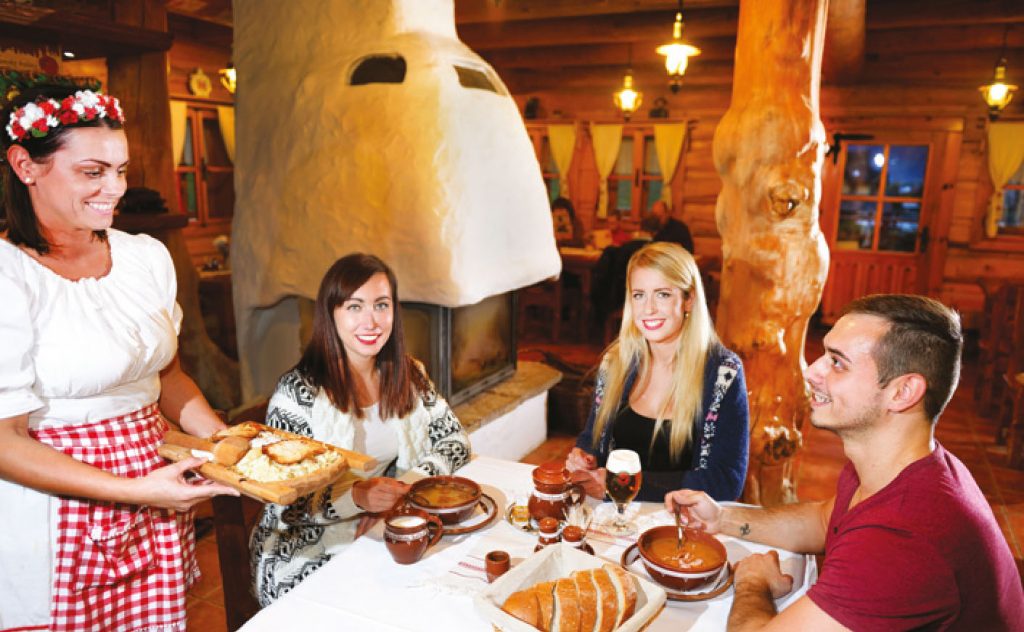 Bryndza dumplings
Well-known bryndza dumplings are considered to be the Slovak national dish. The authentic dumplings should be made of potato dough, served with sheep bryndza and roasted bacon, preferably in a traditional chalet. This is a very popular dish for Slovaks, while foreigners have trouble eating it, at least for the first few bites. If you see it on the menu, do not hesitate and order it!
Strapačky
Slovaks are lovers of sour cabbage. If you don't like bryndza, but you like dumplings, strapačky are a great alternative. The dish consists of dumplings served with sour cabbage and roasted bacon.
Pirohy
Dough made of smashed cooked potatoes, flour, eggs and salt is used to make the traditional dish called pirohy. They have a semi-circular shape or a triangle shape and are stuffed with savoury bryndza or with sweet jam, cottage or poppy stuffing. They are served sprinkled with poppy or breadcrumbs and poured with melted butter: the savoury version includes roasted bacon and onion.
---
Throughout the entire European Union, Slovak and Czech farmers are the only ones to have a permission to grow poppy.
---
Šúľance
Although pirohy can be prepared in both savoury and sweet versions, šúľance is a traditional sweet dish. These little rolls are made from potato dough and are cooked in salted water. They are served with nuts or poppy seeds poured with butter. This simple food will surprise you with its taste.
Polesníky
Polesníky, haruľa or potato pancake – these are names for a popular dish of our ancestors. The recipe has regional differences; some add more garlic to the potato dough, others add marjoram. The pancakes are roasted in oil, stuffed with meat and sprinkled with cheese, or you can eat them without any additional ingredient. Soups used to be the staple of our ancestors' diet. They preferred thick and filling soups, which were also consumed for breakfast. This relates to the lifestyle of previous generations whose high energy expenditure during their everyday activities required energy-dense meals.
Cabbage soup
The most popular of all traditional soups is the cabbage soup with mushrooms, ham and sausage. Its preparation is not very demanding and you can enjoy it in every region with small variations.
---
The inhabitants of Orava were famous for their high consumption of about 50 kg of cabbage per person.
---
Bean soup
Not only cabbage, but also legumes were popular among housewives in the regions of Žilina. This tasty bean soup was made of beans pre-soaked in water, sausage, onion and garlic. It tastes the best when served in Trstenská ceramics with home-made bread. In order to make your stay complete, you certainly cannot leave without tasting the drinks with a long tradition in the region of Žilina.
Hafirovica
A unique liqueur, known mainly in Orava, made of blueberries, rum and sugar is called Hafirovica. However, the correct proportion of ingredients remains a secret mainly amongst Zuberec inhabitants.
Hriatô
A home-made alcoholic beverage made of caramel, decoction of caraway, spirits and fat is called Hriatô. It is drunk hot; you shouldn't savour it, but you should drink it all at once to make the beverage flow down the throat faster and let the fat layer fill the throat.
Demänovka
Our Czech neighbours have Becherovka, but we have Demänovka. The Slovak bitter herbal liqueur originated in the 1960s and it is produced in Liptovský Mikuláš. It contains 14 kinds herbs, spices, bee honey, fine spirits and spring water.